Module:Endangered
From Vassal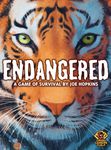 Files
Filename
Filetype
Size
Date
Compatibility
1.0
Endangered_1.0.vmod
module
14.42 MB
2020-06-10
3.2.17
Module Information
Comments
Work with your fellow conservationists to save tigers and sea otters from extinction. Influence the UN to save the animals and stop environmental destruction. If four UN ambassadors vote yes on the resolution then the players win. But until the vote takes place, players need to keep the destruction at bay, and keep the animals alive!
Each turn players will roll the dice they can allocate to action cards. After actions are taken, mating pairs will have a chance to procreate, and destruction tiles will enter the board, possibly killing already scarce animals.
Version 1.0 This is the first version of a fan made Vassal module for "Endangered". This Module contains the Core Game featuring the Tiger Module and the Sea Otter Module.
© 2020 Grand Gamers Guild. All rights reserved. Included by permission of the publisher.
Please support Grand Gamers Guild!
There will be a 2nd Kickstarter in a few months for 3 more Expansions (6 animals). If you subscribe to their Newsletter you wont miss it!
Screen Shots
Players