Module:Enemy at the Gates
From Vassal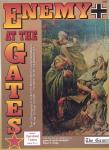 Files & Module Information
Comments
The Gamers, Operational Combat Series, Game#2.
v2.21: Updated the Mouse-over Stack Viewer function to display the underlying terrain hex. Added magnification feature to the Inventory function. Standardized key-stroke selection of non-stackable pieces to eliminate key-stroke duplication with Map Flare function.
v2.20: Fixed Combat Markers bug, so that they always display above counter stacks. Added keyboard shortcuts for dice roll functions; updated keyboard shortcuts summary sheet, moved it under Help menu as pdf. On main map, changed piece select highlight to red border. Back-end revamping of Prototypes for OCS markers.
v2.19: Incorporated Sub-menus to better organize drop-down menus for land/air units. Added Combat Markers to facilitate PBEM. Streamlined text option of displaying step losses. Added reference sheet of commonly used keyboard shortcuts.
v2.18: Reorganized folders to facilitate access to generic unit counters for each side.
v2.17: Minor changes to enable v3.6.x compatibility without generating error messages.
v2.16: Upgrade to v3.5 enables Map Flare functionality. Mask graphics decreased in size to obscure less of the counter area for the friendly player.
v2.15: Incorporates Fog of War features to Mask all of a player's pieces as desired, except for Exploit and Out of Supply markers. Previous vsav files should be compatible with this version by using Counter Refresh button in v3.3.2 (however an error message will appear if using v3.4.x). Additional cosmetic change to Soviet airbase and Fueled counters.
v2.14: Fixed a bug preventing Axis MUF markers from flipping back from their Fueled sides.
v2.13: Another bug affecting Step Loss markers has been rectified. This version is only compatible with Vassal v3.3.
v2.11: A bug preventing the new optional Interdiction marker from being able to be removed has been fixed.

EatG v2.1 is a complete rebuild, recycling the old map and counter graphics but incorporating 2020 standardized OCS module features.
Missing counters from the original module were sourced from countersheet scans on the OCS Depot website.
Additional 3 errata counters were added from the 1994 Gamers Christmas countersheet.
Updated aircraft counters were added from the 2000 Gamers Christmas countersheet. Additional aircraft updates were added from the GB2 Bonus countersheet from 2001. These include 4 re-revised aircraft counters (Sv Po-2 & Yak-9, Ge Me-110c & Ju-88) with slightly different background color shades from different print runs.
The original game included breakdown regiments of only 1 Action Rating per nationality (Ger AR4, Ital AR3, Rum AR2, Hung AR1, Soviets AR2). Additional German, Italian, and Rumanian breakdown regiments were added from the 1997 Gamers Christmas countersheet. Breakdown regiments are not restricted by the counter mix. However, I duplicated the total hard-copy numbers of both original and add-on breakdown regiment counters in all campaign scenario setups.
Also included are all the generic and East Front-specific vanity counters from The Gamers Christmas countersheet mailings through the 1990's.
In all scenarios, setup Supply Points and Reserve Markers have been reduced by 25%, per House Rule options in the current OCS errata document to adapt EatG for v4.3 rules.
Screen Shots
Players
kurtmeyer41
Ulv Miller
DerDiplomat