Module:EuroFront II
From Vassal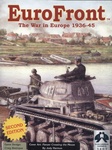 Files and Module Information
Comments
1.9.5 Adds four enhancements
1) Right click menus on all blocks to place markers (Airstrike, Assault, Blitz, Invasion, OOS, etc.)
2) Ability to "Hide" beachhead markers (as is directed in the rules, they are to be placed 'face down' so the axis player doesn't know which are ready).
3) Added a Battle Marker (can also be placed like the other markers added in #1)
4) Added a custom "Strategic Move" marker (under the "Status Markers" submenu) and a button in the top interface to "Clear all strat. move markers". The intention is that you can place the strategic move markers (Shift-X) right after you move a unit strategically. This will let you easily keep track of where and how many of these moves you've made. Then when you finish with your movement phase, you can clear the markers quickly and easily with the button on the top bar of the interface.
If you are playing an existing game, (or using 'saved' setup files), make sure to use "Tools-->Refresh Counters-->Run ("Use Counter Names to Identify Unknown Counters" should be checked). This will ensure all blocks and markers get the enhancements from this version. This only needs to be done once per game, as the save file will 'remember' to use the new items. All new pieces pulled out of the "Pieces" menu will have the enhancements by default; only the counters/blocks from 'saved' games need to be updated this way.
Version 1.8 includes both Eastfront II and Westfront II
You can also get module version 1.8 (13-Apr-08) here
Vassal conversion of Columbia Games EuroFront2

More information available from "News from the Front" web site here
Screen Shots
Players
bennyb
Noman
borat
Vonpaul
gdaudin
robarrieta
BigDave
andrew516
yankeeap
destroyer1963
Hal752
daxelos
jeb123
aradiel
pfglenn
Profit
Pat22
pzlehr
LevMishkin
Hansvdd
nickd
rosebluepaint
fatgreta
gerland
Batei
Tinto
Maik
Marciemarc