Module:Everything vs. Everything
From Vassal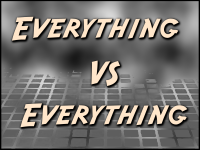 Files
Module Information
| | |
| --- | --- |
| Maintainer | Chad Mestdagh |
| Contributors | Chad Mestdagh |
Comments
The horizon looms. Beyond it lies an unspeakable evil, a malevolent force seeking the destruction of everything. He bends wills. He corrupts. He is the director. All will succumb to his darkness. Already, he has bewitched the minds of a powerful few, and they have fallen under his powerful spell. He will be unstoppable!
You and you alone are the one force that can stand against him. You are the master strategist. Your battle skills and master planning have taken years to perfect. Allies have rushed to your side, willing to fight and die for your cause! You have only a few resources, however, which doesn't bode well. To prevail against this monstrosity would take an army, a legion — everything!
Everything vs. Everything plays like a simplified wargame with units on a field that maneuver and attack one another. The units are powered by special abilities, and you prioritize how and when to use those abilities.
Everything vs. Everything can be played solitaire or as a two-player head-to-head game. Note that the rules are in the Module!!!
Screen Shots
Players