Module:Federation Space
From Vassal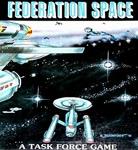 Files
Module Information
| | |
| --- | --- |
| Maintainer | Craig68x |
| Contributors | Craig68x |
Comments
This game was originally produced by Task Force Games back in 1981. It was, by all accounts, a snapshot of what eventually became Federation and Empire nearly five years later. I personally prefer this version since I don't work for NASA.
Version 3.5 is here.
Update: 5/5/12: The screenshots are now adjusted to reflect a cleaner version of the original map board. Many thanks to Eric P. for supplying a better copy.
Update: 4/19/12 Federation Space is getting a complete make-over, redo, change, face-lift, etc. A fellow BGG member has allotted me with some revised material for Federation Space to help balance the game it so badly needs. Thanks, Byron!

The help file has been updated as well.
Screen Shots
Players