Module:GMT East Front Series Volume I
From Vassal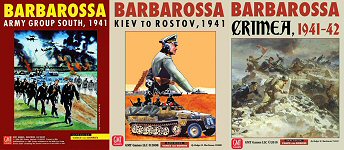 Files
Module Information
| | |
| --- | --- |
| Maintainer | Gary B |
| Contributors | Steve Bradford, Steve Petras |
Comments
With Permission of GMT.
This module covers the three GMT Eastern Front Series games: Army Group South, Kiev to Rostov and Crimea.
They can be played separately or as a single combined game.
Version 1.3 has the set-up for the Southern Bessarabia/Danube map, a fuller game piece pallet to allow interworking with the Army Group Center/North module for those ambitious enough to play the whole of 1941 Barbarossa - and the coloured supply tags used on the North-Center module which proved popular.
Version 1.31 includes set-up and counter errata, plus to include additional Axis and Soviet user accounts to facilitate multi-player gaming in the larger Campaigns. As a result of play-testing, the new module also includes more overlap maps in the area North of Kiev to facilitate the combined game transfers between AGC and AGS.
Version 1.40 contains minor errata updates, a revised Uman Pocket extended campaign scenario and revised OoB for Bessarabia due to information received from the game Developer.
Version 1.41 contains minor errata updates. There are also additions to the charts section VP tab to aid play. The v1.41 module also has a global button to reset all Soviet Activated units. The file name has been changed to show it covers only the three Army Group South games (including the later phases of Kiev-to-Rostov and Crimea). There is a separate Module that covers the other three East Front Series games under the 'Volume II' section.
NOTE: Version 1.421 is the latest Module available. (includes a minor update for Crimea Scenario #7 missing Air unit)
Load any existing game into the latest version and it will have the errata updates and fixes - you will need to press the Vassal button 'update pieces' to refresh units of games already started under previous module versions to get the new features. Forward-compatibility is carefully maintained in all releases, in that earlier games will always work in later module versions.
Memory: This is a large module and you may get 'Out of Memory' warnings when accessing all of the map unless you set your initial heap to 512 MB and maximum heap to 1024 (double the defaults); these are located in the top left-hand buttons of the module. Also change the preferences on the Main Vassal Application to JVM initial and maximum heap to 512 and 4096 MB. It should all work OK from then-on.
Screen Shots
Players
Gary
Steve Bradford
jeb123
Roy
Andy