Module:Gettysburg: 125th Anniversary Edition
From Vassal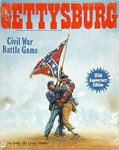 Files
Module Information
| | |
| --- | --- |
| Maintainer | Bill Thomson(wga) |
| Contributors | wga, jw62, swampwallaby |
Comments
125th edition is the Smithsonian Edition which is identical to the 1988 edition used for WBC & PBEM tournament play.
Version 3.4 [Joe Harkins, Vince Meconi, Bill Thomson] 04/10/2021
Paul Blankenship's PBU Look At Feature capability assimilated [original java code credited to David Sullivan). Similar to that in the Virtual Advanced Squad Leader [VASL] module from which the code was extracted. CNTL-Right Click generates a temporary large circle around the mouse location. This is used to draw the opponent's attention to the location being acted upon. This circle will appear both in server play and any logfile.
Updated Hot Keys help file to explain LookAt activation and modify Function ## keys. Note F# function keys do not apply to Macintosh as such keys have general computer functions [i.e. F1 & F2 are display brightness, F10, F11, F12 are sound controls, etc].
Added optional Meade+1, Hancock+1, 2-7 Gamble, 2-7 Devin, and Union Wing Commanders (Reynolds, Slocum, Sedge) citing divisions in the wing.
2-7 Gamble and 2-7 Devin optional counters value updated such as reports as 2 VP when destroyed when VP Summary button is triggered.
Updated images for optional extra Union generals Newton and Birney with updated turn of entry on counter.
All optional counters are located in the optional display accessed by green/yellow Optional Units button. Optional units have a yellow field behind the unit name. If to be used, put the standard counter into the optional display and pull the optional unit onto the map or OOB.
Union Wing Commander display added to charts.
Added G88 Combat Odds [percentage of outcome] chart. This file is credited to Vince Meconi BPA tournament handouts.
Flipping of Initiative Chit now reported to log.
The Delete trait was removed from the Initiative Chit.
Units on Graveyard and Optional Units are no longer marked moved when units moved on these displays. A 2.0 zoom level has been added on both of these displays.
All five scenarios updated to include the all optional units into the optional units display.
Deleted all obsolete Help and Scenario files [reducing module size for 3.2 to 3.9 MB]
Version History, Optional Units, and PBEM Rules Conventions help files updated.
Screen Shots
Players
wga
Damon
slawo
wargamer55
BoardgamesToGo
Kitfoa
DEATH
PrivateParts
baub64
JeffGeorge
daxelos
vmi1983
rickbill
severn8212
CMV233
rhammond
daxelos
bdgza
gregorit
JeremiahLee
alsandor
everettc
ChaosWolf