Module:Gloomhaven
From Vassal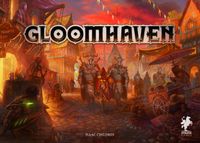 Files
Module Information
Maintainer
gattsu
Contributors
Cannawen, Igor_444, crazyclausewitz, sanctum,

R.S. Barker (Silverleaf)
!! See Discussion Tab for further Module Information !!
Comments
Gloomhaven is a game of Euro-inspired tactical combat in a persistent world of shifting motives. Players will take on the role of a wandering adventurer with their own special set of skills and their own reasons for traveling to this dark corner of the world. Players must work together out of necessity to clear out menacing dungeons and forgotten ruins. In the process, they will enhance their abilities with experience and loot, discover new locations to explore and plunder, and expand an ever-branching story fueled by the decisions they make.
How to use this Module
Starter Guide
Warning
This Module contains Spoilers!
Hero Retirement Guide
Updated version of the retirement guide for the 5 player variant using the automated retirement system.
|- | Gloomhaven_5Player_How to retire V4.0.pdf | | class="module_file_size" | 594 KB | class="module_file_date" | | class="module_file_compat" | unknown This guide has been written for the 5 player version of the game, but may also be helpful for the 4 player.
|- | Gloomhaven_5Player_How_to_retire.pdf | | class="module_file_size" | 683 KB | class="module_file_date" | | class="module_file_compat" | unknown

Release Notes
Version 3.1.2 Added in some more 'Solo' players who have access to all cards. This should help support players who want to play 2 heroes at a time.
The main use case here is 2 players controlling 2 heroes.
Version 3.1.1 Update of the Quick Start Help File, thanks a lot to R.S. Barker (Silverleaf) for that update.
Version 4.0 - 5 Player (for 1 to 5 players)
Highlights:
Predefined scenarios are now fully functional and support 2,3 or 4 player set-ups (for 5 players, I recommend using the 4 player set-up but raise the scenario difficulty by one)
Enemy HP are automatically populated based on the orientation of the enemy card on the enemy board
Enemy cards are now flippable for levels above 4-7
Tick boxes are now automated, and can be left clicked to add or remove a tick
Tick tracks (like Prosperity) can be modified using the +/- buttons close to the start or name of the track
Battle Goal tick boxes on Hero Sheets have add and remove buttons either side of the "Notes" heading in the area they are recorded
Hero sheet active level is derived from XP score entered
For a new Hero, there is a "Set up new hero" option in the right mouse menu of the Hero Sheet that automates Level, Gold and XP based on the current Prosperity Level.
Added a Reset option to right mouse menu of HP tracker on Player Boards which is tied to your hero and level.
Added Retire Hero buttons to the Player Board and Player Hand windows to simplify retirement (see the Retirement Guide)
Full change list here: |- | Gloomhaven_V4.0_Change_Notes.txt | | class="module_file_size" | 8 KB | class="module_file_date" | | class="module_file_compat" | unknown
Version 3.2 - 5 Player - WARNING incompatible with Vassal 3.5.1
The introduction of the Flare command in Vassal 3.5 breaks your ability to reposition dungeon tiles once deselected.
Dungeon tiles must be selected by using Alt+LeftClick in the centre of the tile, because Alt+LeftClick is now the default "Flare" command, you can not select dropped tiles, not even to delete them. And since they are specifically exclude from band selection, I'm afraid it is broken. The only work-around is to drop another copy of the tile over the top and rotate it to the correct orientation BEFORE deselecting it.
This is a known bug and IS fixed in 3.5.2
Version 3.2 - 5 Player
2021-02-23 - Bug Fix to Heroes Extension (Fixed HeroX "Choose player" command which was not functioning)
Change notes:
1. Fixed Blue backed Item cards:
These were not flipping and rotating correctly due to a spelling error in their parent object.
2. Fixed Hero Set-up screen:
When you do a "Refresh Counters" to update all the cards and tokens in a save game, the Hero Setup screen becomes broken due to the cover cards falling under the decks. A new "Unlock All" button has been added to the screen which will remove all the covers and unlock all heroes for use, you can then re-cover the decks by dragging a cover card for each hero from the Level Up tabbed panels onto the white space of the Hero Setup board and using the right mouse menu to Re-Cover the deck which also locks out the hero from use again.
3. Added Enhancements to the Hero Ability cards
You can now add and remove your enhancements from the ability cards from the right mouse menu. This will modify every instance of that card in the current save game.
Enhancements also now behave properly when a card is flipped, ie - They are also obscured by the card back as you would expect.
4. Status buttons
The Regenerate status button was not working, this has been fixed.
Version 3.1 - 5 Player
Spoiler prevention
1. Updated numerous token names to no-spoiler names for each hero
2. Added Legacy envelope board where all legacy envelopes are listed with content
3. Locked certain legacy envelopes based on status of other game factors
4. Locked one hero envelope - It can be opened by fillin in it's real name
4a. Obscured all cards and components relating to that hero
4b. Renamed that hero to HeroX and removed all references to it's real name
Status buttons
1. Added a row of status buttons to the main map to update the selected token(s) (Inspired by Gattsu's work on the 4 player original)
Battledeck Modifier Cards
1. Added a Return option to right mouse menu to send curse and bless cards to Dungeon Board stacks.
Version 2.3 - 5 Player
Dungeon Board map window changes:
1. Added "at start stack" of 12 curse, 10 monster curse and 12 bless cards to Dungeon Board.
- By RAW, each game should use 3 stacks:
10 Curse cards (for hero battle decks)
10 Curse Cards (For Monster battle deck and marked with an "m" in lower left corner)
10 Bless Cards (Shared across all Hero and Monster battle decks)
- To support 5 players, our playtesting led to using:
12 Curse cards for the Hero battle decks
10 Curse cards for the Monster battle deck
12 Bless cards, shared across all hero and monster battle decks
2. Added LOS Thread (Line of Sight) button to main Dungeon Board map window to allow drawing lines of sight live in play.
- By RAW if a LOS goes through the corner or edge of a hex containing a wall or other solid barrier (not an Obstacle tile), then the LOS is blocked and that enemy/Hero can not be targetted.
Token and Status marker changes:
1. Added Status markers and Hero token markers as layers accessible from right mouse menu of all Enemy, Summon and Hero/Player tokens.
- "status" and "player token" sub menus added to board tokens.
2. Added Tokens for entry points in Dungeon>Dungeon Setup>Token>1 icon menu
3. Redistributed tabbed icon menus betewen Token and Dungeon Setup pull down menus.
- Scenario Aid and Objectiv tabs moved from Token to Dungeon Setup menu, Status tab copied to Dungeon Setup Menu.
- Changed order of tabs in Dungeon Setup menu to prioritise most used tabs without removing legacy tabs.
- Changed order of tabs in Token menu to prioritise most used tabs without removing legacy tabs.
4. Re-ordered tokens in Dungeon>Dungeon Setup>Token>1 and 2 tabs to make finding relevant token types easier.
Quest Book:
1. Added Layers to every scenario map in the Quest book to cover unrevealed rooms.
- Added right mouse menu option to remove each room's cover piece, revealing room set-up.
NOTE: Layouts in Predefined Scenario menu are unchanged.
Town Book:
1. Added editable text rows on page 3 to record hero retirement
2. Added right mouse menu option to add a red "X" to mark off checkboxes at key points in the Town Book.
Player Boards
- Added "Set Player Hero" button which defines the player hero for the game based on which hero board has been added to the player board. This is used to define the Player Token image if the player didn't use the "Choose P#" command from the Setup Hero screen.
Version 2.2 - 5 Player
Major correction to errors in 2.1 stopping the extensions from loading
Fixed small bug on Circles cover box which prevented it from being removed when assigned to Player 1
Removed option to return items to the Item Deck from player boards, leaving only the option to send items to Available Item Deck
Version 2.1 - 5 Player
General performance improvements from playtesting
Added item specific use/refresh options for Spent or Consumed items
Version 3.1
Upgraded to Vassal Version 3.4.1
Hero Tokens can now be created via a button on the player board
Hero Tokens have been moved to the Level Up Tab
Several Scenario fixes
Added a Button to set the Monster Level so a Monster Token has its stats displayed in the MouseOver Zoom under the Monster Token
Card Text of the latest played Enemy Card is displayed in the MouseOver Zoom above the Monster Token
Added a Button so a Monster Cards can be drawn without drag and drop
Added a Button so a Monster Battle Deck Card can be drawn without drag and drop
Added a Report function which reports the drawn Monster Battle Deck Card into the Chat
Added a Iniative Button to the Enemy Board. This will send all played iniative Cards to a new Window.
Version Experimental - 3.0.0
I've started a module to pre-setup the initial monster layouts for 4p (as opposed to two players). The first 50 maps will apply monsters for 4p. The remaining maps will setup as 2p until I get around to adding the changes to all maps.
If you are using this module, I would highly recommend disabling the Predefined Scenarios Extension for 2 players (or vice-versa). You likely won't break anything but you might run into a 'out of heap stack / out of memory error / crashing the module on load.
This is based on the v3.0 version of the Predefined scenarios, which does not have snap-to-grid. Hoping to add that at some point.
Version 3.0.1
added snap on grids to all scenarios (I was not able to add a grid to scenario 14)
Fixed #24 base map
Minor fixes to other scenarios
Version 3.0
Update Module and Extensions to latest Vassal Version 3.3.1
2nd Edition Cards added for Forgotten Circles
Decks can now be saved/loaded. This will make a resetup of a campaign much easier. Affected Decks (City/Road Events, Random Scenario, Blue Items, Available Item Deck, Card Pool Deck for Players)
Quick Status Change Bar added. This contains all Status/HP/XP. If a token is selected you can click on the icon to set the status/HP/XP for that token. This will increase gameplay if you like to play without a mouse.
Rehaul of the Quest Book. I change the Quest Book / Solo Quest and Town Booklet to a Chart Window. The previous implementation had not worked on all PCs/Macs
Added a Deck where a player can store there card pool
All Predefined Scenarios have now fog or war.
Added Forgotten Circles Hero extension useable for Jaws of the Lion module
Added End of the Turn Button (reshuffles automated all Battle and Monster Decks if needed, decreases Elements and increases Round Tracker)
Added Satire's Extended Battle Goals - https://boardgamegeek.com/filepage/179568/satires-extended-gloomhaven-battle-goals
Version 1.3 - 5 Player
Added a 5 Player version of the Gloomhaven Module provided by Sanctum
Version 2.3
sync hp token and board
more fog of war scenario 1-33
Version 2.2
Adden Feature to clean up Player Board after Scenario (Unexhaust and flip all Items, Return all Cards to player hand, Return cards to BD and remove added -1/Cursed and Blessed Cards, Return Battle Goals)
Items are now only Exhaustable or Unexhaustable depending on their current state
Version 2.1
Draw specific card from random item deck
Sort starting events
Send to deck feature for road events
Personal quest renaming
Draw specific card from Personal Quest
Mark summoned on top stacking
Spread order
Remove piece from discard 2P/3P/4P -> easier discarding the first card
Fixed road event issue
Trap Status/HP Marker
Summon HP/Status Marker
Most new features enables a faster resetup of a ongoing campaign in case that you have to do it manually

Version 2.0
Objective and Scenario tokens are no longer stacking
Added Hp tracking to Senario and obj token
Money not stacking anymore
Brute lvl 8 card fix
Resetable scenarios 1-40
Moveable hero board (shift)
New button to spread all cards in hand
Short rest fixed (now shuffles the discard)
Two Play Buttons for the Action Cards (1st and 2nd Slot)
Cards are now returned to hand to a free space
Hero Card re-naming (Cragheart LX cards/Spellweaver L1 cards/Angry face all cards/Three Spears all cards/Music Note all cards/Sun all cars (Still 6 classes left)
Renamed Objectiv -> Objective
Sorted Objective / Scenario Tokens
Renamed Envelop -> Envelopes
Added Campaign Tracker Sheetnd
Added a 2nd enemy board for more than 6 enemies
fixed the back of the two mini character board
Fixed FC Extension so that enemies can now be deleted
Version 1.0 This is the first version of a Vassal module for the Dungeon Crawler Game "Gloomhaven". Due to the sheer size of all Gloomhaven components I splitted the Main Game. You need to add the Gloomhaven Heroes Extension to the Module. Forgotten Circles is as well an available Extension which can be added if desired.
Version 1.1
Changes:
Added Wound Token to Status Panel
Events can now be moved to bottom of the Event Decks
Enemy sheet moved to the Enemy Decks
Enemy InitId Numbers added
Report for hp/xp changes
Object Back added
Enhancements for Action Cards improved
Battle deck reset added
Party overview added Retired and new Characters
Blue item now deletable
Random dungeon/monster added
Added Predefined Scenarios as own Extension
Version 1.2
Rehaul of the Status Tracking
Rehaul of the Wound Tracking
Rehaul of the XP Tracking
Rehaul of the Enemy Init Id Tracking
Money Token do not longer stack
Player 2 and Player 4 now have access to their hand

Version 1.3
Fixed Issues with "Return to Hand" for Discard/Lost Pile P3/P4
Fixed Issue with "Return to Deck" for Battle Deck Discard P3/P4
Added Regenerate as Status
Added Rift Event Grey
Changed XP/HP Tracker Order for Hero Token
Some Battle Deck has not been available
Clean up and Renaming of Battle Deck in the Level Up Tab
Rehaul of the Enhancement Tracking
Renaming Wound Tracking to HP Tracking
Added Replace Enemy with Money Token Function
Added Mark as Summoned Function (Token is Placed underneath the Enemy Token)
Version 1.4
Version 1.5
Treasure index update (this will improve update of save files in the future)
Envelop index update (this will improve update of save files in the future)
Added HP Tracking to Dungeon Tokens
Party sheet deleteable (this will improve update of save files in the future)
Party sheet to token tab
Added Battle Deck Cards for Player 2-4 (new Images)
Button to Remove all Hero Battle Deck Cards from the Battle Deck
Scenario and Objective Token Layer fix
Added missing Item 71
Lock Tokens (new with shift selectable)
Item Deck can now move several cards
Moved sheets and boards to hero tab
Changes for a Spoilerfree experience
Added Add curse/bless/-1 menu
Removed all added curse/bless-1 cards
Update improved hero token
Added new "Place Hero Token" to Action Cards for Ability Tracking
Updated Enemy Tokens to new improved icons
Warning Save Files from lower version than 1.4 won't work with version 1.4
Disclamer
© 2017 Cephalofair Games. All rights reserved. Included by permission of the publisher
Please support Cephalofair Games!
Screen Shots
Players