Module:High Frontier (3rd edition)
From Vassal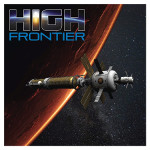 Files
Comments
This module is for High Frontier 3rd Edition, released with permission from Phil Eklund. It supports High Frontier proper as well as the Interstellar game included in the box.
When starting a new game you will be first asked to pick a side. Afterwards, you will be asked to "Choose Boards":
1) to play High Frontier select "Solar System";
2) to play Interstellar select "Interstellar";
3) to play High Frontier followed by Interstellar, either "Add row" or "Add column" to place the Interstellar map below the Solar System one or to the right of it, respectively.
Please see the READ ME window after starting a game for complete release notes, including details about the optional extension (see also Scott's page).
Beware that the module is quite large. It will take several minutes to tile all images at install time and it might tax older systems even during play time. Make sure you are using Vassal 3.2.17 and that you have the latest Java JRE installed. Increase Heap Size in the Vassal Preferences in case of any issues.
Any feedback most welcome: please email me (Stefano Tine') or post on the High Frontier 3rd Edition forum on boardgamegeek.
2017-09-21 Module/extension updated to version 1.1 (Release Notes)
2017-09-25 Module/extension updated to version 1.2 (Release Notes and addendum to READ ME)
2017-11-25 Module/extension updated to version 1.3 unpublished version (image size reduction)
2018-02-27 Module/extension updated to version 1.4 (Release Notes)
Screen Shots
Players
Stefano Tine'
Michael Lange'