Module:High Frontier 4 All
From Vassal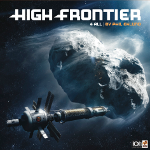 Files
Filename
Filetype
Size
Date
Compatibility
Developer
Other Contributors
1.6
high_frontier4_1.6.vmod
Module
67.32 MB
2021-04-22
3.4.13
Stefano Tine'
Comments
This module is for High Frontier 4 All, released with permission from ION/SMG. It includes modules 0, 1, 2 and 3.
Please see the

window after starting a game for specific instructions.
Also note that, different from the physical version of the game, all playmats (for core, modules 0, 1, 2 and 3) have been combined in single playmats to save screen space. Extra info/help text on the physical playmats has been moved to pop up displays and/or separate player aid windows.
Any feedback most welcome: please email me (Stefano Tine') or post on the High Frontier 4 All forum on boardgamegeek (I am user "barbanera" there, same as here on Vassal).
Release history:
2020-11-07 Version 1.0: original version
2020-11-29 Version 1.1: fixed the Earth and Venus overlays which were not showing
2021-01-26 Version 1.2: fixed the RfG card for the ISRU Sabatier, the missing glory points from the Total and removed misleading display of extra VPs for delegates (already included in the cube count)
2021-03-06 Version 1.3: added a visual reminder of available Aqua for playing factions in the Patent Auction area; added a "Take a Seat" function to the Table Setup window and made the latter more robust
2021-04-04 Version 1.4: claims, cubes and colonies in the player colour can now be right click placed directly on the map; support for various solo modes and jump start stacks; please see dedicated BGG forum thread for full release info
2021-04-14 Version 1.5: added the 6th player spacecraft card for the Space Diamonds game and fixed a bug (introduced with version 1.3) that would not distribute spacecraft and mission cards to all seated players; added button to switch to original version of Lutetia
2021-04-22 Version 1.6: added the 2 extra Bernals from the 6th player expansion kit; fixed C-stack distribution of discovery chits and send to playmat, hide/reveal functionality
Screen Shots
Players