Module:Hube's Pocket
From Vassal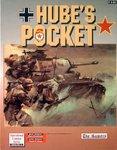 Files
Module Information
| | |
| --- | --- |
| Maintainer | Herman Wu |
| Contributors | Jeff Coyle, Myk Deans |
| | |
| --- | --- |
| Maintainer | kurtmeyer41, Zajuts149 |
| Contributors | kurtmeyer41, Zajuts149 |
Comments
v2.19 Incorporated Sub-menus to better organize drop-down menus for land/air units. Added Combat Markers to facilitate PBEM. Streamlined text option of displaying step losses. Added reference sheet of commonly used keyboard shortcuts.
v2.18 reorganizes folder structure to facilitate access to generic unit counters for each side.
v2.17 makes minor updates to enable v3.6.x compatibility without generating error messages.
v2.16 upgrades to v3.5 to enable Map Flare functionality. Mask graphics also decreased in size to obscure less of the counter area for the friendly player.
v2.15 incorporates Fog of War features, to enable a player to Mask all his pieces except for Exploit and Out of Supply markers. Ongoing vsav game files should be compatible with this version by using the Counter Refresh button if using v3.3.2 (an error message will appear if using v3.4.x). Also cosmetic changes to Soviet airbase and Fueled markers.
v2.14 fixes a bug preventing Axis MUF markers from flipping back from their Fueled sides.
v2.13 fixes an issue with Step Loss markers. This version is only compatible with Vassal v3.3.
v2.11 is a complete rebuild using recycled map and counter graphics from the original module, with 2020 standardized features common with other OCS modules. In addition to original scenario setups, I've included a historical setup file, courtesy of Perry Andrus. v1.65 files will not be compatible with v2 module.
A note on add-on counters: 1997 (12 Soviet AT Bns) and 1999 (23 German PJ Bns) Christmas counters are included in both the original module and current rebuild, worked into the scenario setups. Additional generic and East Front-specific vanity counters from the Gamers Christmas mailings are included in a separate tab listing. Finally, 7 Hube's Pocket specific German KG markers (5 Wehrmacht, 2 SS) are included in this module under the counter listings, but not in the scenario setups.
The Gamers. Operational Combat System
Screen Shots
Players
kurtmeyer41
EagleWSO
RedMiller