Module:Hungarian Rhapsody: The Eastern Front in Hungary – October 1944-February 1945
From Vassal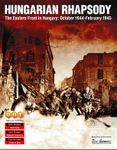 Files and Module Information
Comments
Version 1.11 Corrected Combat Markers bug, so that they always display on top of counter stacks. Added keyboard shortcuts for dice roll functions. Updated keyboard shortcut summary sheet, moved it under Help menu as pdf. On main map, changed piece select highlight to red border. Back-end revamping of Prototypes for OCS markers. Added 2 missing VP hex markers to scenario 5.5 and 5.7 setups.
Version 1.10 Fog of War Incorporated Sub-menus to better organize drop-down menus for land/air units. Added Combat Markers to facilitate PBEM. Streamlined text option of displaying step losses. Added reference sheet of commonly used keyboard shortcuts.
Version 1.09 Fog of War Minor back end updates to eliminate error messages.
Version 1.08 Fog of War Minor adjustments for v3.6.x compatibility without generating error messages.
Version 1.07 Fog of War Decreased size of Mask graphics to obscure less of the counter area for the friendly player.
Version 1.06 Fog of War Counter graphic updates for 1 Gd UR Bde and 32 Gd Mech Bde to correspond with recently published errata. Additional minor related adjustments in scenario setup and reinforcement schedules.
Version 1.05 Fog of War Upgraded to v3.5 to incorporate Map Flare functionality. Fixed bug so that breakdown rgts now generate Strat Mode markers above (not below) the counter. Also adjusted all incoming reinforcement counters onto consolidated OOA sheets to be more user-friendly.
Version 1.04 Fog of War Fixed 2 small Masking bugs, involving transport Fill Levels projecting above Masking graphic, as well as enabling Soviet Front markers to be Masked now. Also adopted side-specific Masking graphics, and modified graphics for Soviet airbase and Fueled markers.
Version 1.03 Added Fog of War Fog of War capabilities added via the introduction of side-specific markers that can be Masked (in addition to all units). Hedgehogs/Out of Supply/Exploit markers are side-neutral and exempt from Masking. For existing game vsav files, Counter Refresh will update counter capabilities, but will NOT remove the old markers. As such, existing Step Loss, Low Stocks, Strat Move markers would need to be manually removed and replaced (using the right-click drop-down menu) before continuing any games in progress. Other enhancements: Added complete OOAs for both sides to eliminate referral to game booklets re unit arrival/removal notes. New counter highlight features for Reserve markers and Jan '45 Soviet withdrawal (S Balaton withdrawals not included as these are already denoted with a black dot). Reorganized the counter highlight and counter function drop-down menus to facilitate player-specific usage. Cosmetic changes to Soviet and Axis Reserve markers to make lettering uniform.
Version 1.02 Added Map and scenario errata from 8/27/20. Added Off Map boxes for Soviets and Axis. Added capability to highlight Trainbusting/Interdiction markers.
Version 1.01 No Fog of War Perry Andrus added: an XX to the Axis DG Small so I can easily distinguish it from the Allied DG Small; transparent TB markers; an Axis Air Box to the Offboard Boxes button on the Main Toolbar with a much larger Wiener-Nuestadt offmap box; a tiny hog symbol to the upper right corner of the 2 Henrici corps HQs on the Combat Orientation side only.
Version 1.0
Screen Shots
Players
Jeff Coyle
AmusingTitle
Perry Andrus