Module:Infidel
From Vassal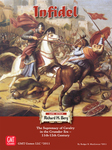 Files and Module Information
Comments
3.0 Modules for Men of Iron Tri-Pack
2.01 Minor tweak to Antioch. I realized the counters where getting hung up on hex vertex and sides etc. Fixed so counters would snap to center of hex only.
2.0 Infidel Antioch 2.0 version is basically a face lift for the counters and tool bar. As I play each module I will give each one a makeover. Thanks goes out to Ralph for giving me the okay to do so. I also had permission to post the charts so they are now part of the module.
1.2 Harran.vmod - fixed incorrect command stripe color on Cappadocian Medium Cavalry, updates with errata counters included in Blood & Roses.
1.1 Ascalon_v1.1.vmod - added zoom to Flight Point Track and replaced with corrected image. Condensed image sizes to shrink vassal module size.
1.0 Initial release
Screen Shots
Players
Rick Galli
xrubio
Anthony Nunziata