Module:Karelia '44
From Vassal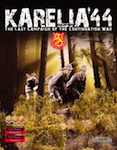 Files
Module Information
| | |
| --- | --- |
| Maintainer | Tuomo Syvänperä (Tinimini on BGG) |
| Contributors | |
Comments
Module created with permission from MMP. Any questions/suggestions regarding the module should be sent to the maintainers, not MMP.
Currently there is no automatic way in the module to handle fog of war (only topmost counter showing), you need to do that by hand by hiding all other units in the stack and only showing the first one.
There are no ready-made campaign setups etc. All the units are in the Finnish & Soviet OOB windows and should be set up by hand.
Release 0.5
Added symbolic dice with both 1d6 & 2d6
Release 0.4
Added missing 46Gd unit to 23rd Army OOB
Release 0.3
Updated map graphics (courtesy of BGG user RedMike, thanks!)
Release 0.2
First public release of the module
Screen Shots
Players