Module:Kasserine
From Vassal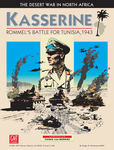 Files and Module Information
Comments
1.3 Discovered some definition errors and corrected.
1.2 Minor update to all Kasserine modules. Counters getting hung up on Hex vertex's and sides. Fixed it so counters would snap to center of hex.
For all battle's read the scenario notes. You can find these when you start the scenario by selecting scenario notes on tool bar. These notes contain weather, setup, special instructions, and victory conditions.
Any errors found please send me a friendly email.
Hope you enjoy the modules as much as I did making it.
Screen Shots
Players