Module:Kirovograd
From Vassal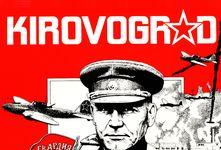 Files
Module Information
| | |
| --- | --- |
| Maintainer | Del |
| Contributors | Del |
Comments
Kirovograd is a Jack Radey classic wargame covering January 1944. Using a recently purchased copy I managed to create a VASSAL module for it, with hand-retouched maps using GIMP and high quality re-drawn pieces, mostly using Inkscape which is a vector drawing program.
The maps have a long way to go -- in particular the lettering for some of the towns and rivers, I haven't managed to find a font that closely matches the calligraphy style font used on the original game maps, so in the mean time I have hand-written over some of the names that didn't scan properly just using a mouse.
This was mostly an exercise in learning how to create higher quality VASSAL modules, inspired by some of the modules that have come out recently, e.g. the World in Flames module, etc. So I'm interested in feedback relating to the module quality, usability, etc, rather than the actual game. I am by no means an expert VASSAL module creator so I'm sure there are a lot of things that could be improved.
Jack Radey says "Personally I'd prefer smaller unit symbols and larger strength numbers on the counters. I still hold the copyright, and go ahead and do the Vassal, I have no objections. With the DfK modifications to the system, K'grad should be a lot of fun to play. Not so huge (and unbalanced ) as DfK (its unbalanced in both directions, mind you, one way to start, the other before the end)."
Version History
0.9
Initial release of the newly drafted module. I have extensively re-touched the map although there is still some work to be done. All pieces have been hand re-drawn.
0.91
Added a solitaire play side and extra reinforcement chart.
I have also included a zip file of all of the various files that I used to create the module -- chart files (created in Libre Office then Inkscape), the base map (created in GIMP), and the unit files (created in Inkscape as SVG vector format then exported to PNG).
There is a document describing how I did the map editing here: https://docs.google.com/document/d/1R7_3BEmlHoo7Xjg-PxCWs8ACnzA4aKhenuDowbpb0CE/edit?usp=sharing
Screen Shots
Players