Module:Lock 'n Load Tactical: Heroes of the Motherland
From Vassal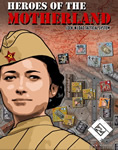 Files
Module Information
| | |
| --- | --- |
| Maintainer | Trent Garner |
| Contributors | |
Comments
The Lock 'n Load Tactical Series advances into World War II's Eastern Front with Heroes of the Motherland. The fate of the Soviet Rodina is at stake depicting ferocious battles across the Russian steppe, in the ruins of Stalingrad, and in Partisan-infested woods. From infantry spurred on by Commissars to intrepid Guards and stoic Partisans, the Soviets are poised for anything the German Wehrmacht and SS throw at them. It's soldier against soldier and tank against tank. No matter the forces or the setting, the Soviets are poised to defend their homeland to the end.
Version 2.5
German Lt Plassman SMC changed to use correct Leader prototype
Version 2.4
Added Button-Up option to all Soviet non-open, non-turreted armor; Fixed to-hit tables for SS Stug IIIG and PzIIIJ; Fixed to-hit tables for SS Pzf30 and RPzB54
Version 2.3
Fixes for all known issues and corrected counters from the v9.0 errata document
Version 2.2
V2.2 MODULE - New features include 3D dice with die rolling sounds, plus counter movement trails, making it easy to track unit movement each turn. All reported errors have been corrected.
Version 2.1
V2.1 - All new official hi-res digital maps and counters with rounded corners. Official module, made by permission of Lock n Load Publishing.
Extensions
V2.5 - Dark July '43: Battle of Prokhorovka module extension - Moved the Dark July '43 markers to the Marker window
Broadsword's Campaign Snowmaps - Snowy winter versions of the maps used in the HotM campaign. Fan mod extension.
Screen Shots
Broadswords HotM campaign snow map 48s preview.jpg
Players