Module:MBT / IDF
From Vassal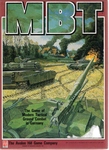 Files and Module Information
Comments
posted with permission of James M. Day
MBT is a detailed look at the organization, equipment and capabilities of some of today's most powerful and advanced military forces. Included are the latest American, West German and Soviet vehicles, their accompanying infantry and attached weapons, and the supporting artillery, air and helicopter elements that compose modern "combined arms" forces. It's all here, and YOU are in command!"
MBT is a turn based, hex and counter tactical game of "modern" tank warfare. Each turn is 1-5 minutes, each hex 100 meters. Unit counters are single vehicles or infantry squads/teams.
MBT uses the same system as "88" (WWII Africa's Western Desert), Armor (WWII Europe), Panzer (WWII Eastern Front), and IDF (Middle East).
Screen Shots
Players
rfdoane
ArmedMedic
pmaidhof
boyceunpluggedl
ScottMayne
Dynaman
SgtStinky
Wargamer777
KevinRohrer
IrishBouzouki
toltesi
destroyer1963
ChandlerB
Richz99
Ulv Miller
Cardboardkdh
BobbyDevo