Module:Machi Koro
From Vassal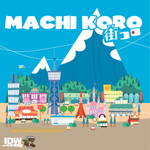 Files and Module Information
Comments
Machi Koro 1.1.7:
Basic version of Machi Koro, with basic images and no rules.
Under pieces button;
Starter cards
Coins
Landmarks (with reverse side)
All stacks of cards have 6 cards as per game contents.
Ability to view all players hands.

Machi Koro Deluxe 1.0: Implementation of Deluxe version, includes both expansions
Implements (by default) the '442' variant of the Marketplace:
4 piles from cards w/ activation values 1-6,
4 piles from cards w/ 7+, and
2 piles from Uniques.
In 'Preferences', the first player in, can set options to disable either expansion, or use the standard Marketplace setup.

NOTE: As stated in 'GameNotes' file, before a player can start game, they -must- click on the 'coin' that is in their chosen hand color, in order to be dealt their initial cards.
As of v 1.0.1, the initial deal is automatic, when player first opens their hand
Screen Shots
Players