Module:Memoir '44
From Vassal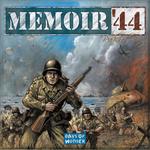 Files
Current Version
All Memoir '44 components are located inside the main module, this is all you need to play with someone. Scenarios are available in the extensions, they have been split up due to their filesize. The version 10 module is based on previous versions of this module, but the improvements made in each new version are not backwards compatible.
1. Scenarios do not show up in the New Game wizard as you are used to from other or previous modules. If you are in the New Game wizard and wish to load a scenario, cancel the dialog. Look under the File menu for the Scenario Chooser item. In there you can find all loaded scenarios.
2. Due to the large number of scenarios mistakes sometimes happen. If you notice any problem or error with a scenario, please report it to bdgza so it can be fixed.
Extension version numbers include an extra digit because they may be updated more frequently than the main module file. The final digit of the version number of individual extensions may differ from other extensions. You should not use extensions from previous module versions with this module.
MD5 Checksums
Verify your files downloaded correctly.

How to Check MD5 Checksum of a File (Win/macOS)
Memoir44vX-10.15.vmod ................... = c59f3a39058f075f92d3823ba3795de6
M44vX-ScenariosOfficial-10.15.vmdx ...... = a67389a3d5dd2d8ac3bae488d0c6cb8e
M44vX-ScenariosFromTheFront-10.15.vmdx .. = 796ea1cd71f00cf84b0d6d36519ed2d4
Download Mirror
Module Information
| | |
| --- | --- |
| Maintainer | bdgza |
| Contributors | Bilben, Brummbar, chilinski, Jonny, bdgza, Kaiman |
10.15: What's New?
The module is compatible with VASSAL 3.6.7.
Fixed all Supported Armor and Supported Infantry units
Added a window and die to play solo using the Stuka Joe method

Click on the white circles to automatically draw cards
Use the Solo die button in the toolbar to roll a Fate Die result

Added buttons in the Axis and Allies hand windows to automatically draw a card
Added a right-click "Play Card" command to cards
Added several measures to prevent a certain potential way to cheat when drawing cards
Renamed the chart tabs
Fixed the "Bomb" option on NFP air units which was missing due to a hotkey conflict
Fixed the "Bomb" option on NFP air units so you can't bomb when it's not legal
Fixed faulty NFP card draw values
Fixed the card backs on BTL decks that should be (1) but showed (2)
Fixed combat markers not being removed from NFP air units on End Turn
Fixed the "No Movement" marker not being removed from units on End Turn
Fixed compendium card Troops 18 - Half-Tracks not being added to the Help for scenarios with such units
Fixed Hobart's Funnies Deploy Bridge
Fixed faulty victory medals in certain scenarios
Fixed a problem with the replace card rules tokens not replacing cards correctly
Compendium card Actions 24 - Re-Supply is now also added to the Help for scenarios that contain Troops 18
Compendium cards can now be Cloned
Allied Italian units renamed from "Axis Italian" to "Allied Italian"
Air Power Dice rules tokens are not deleted when you select no Air Pack and no NFP
Redid the custom Java code of the Scenario window so it won't crash when selected in the VASSAL editor
Added unofficial combat card decks for Countryside and Beach landing, by darthnice
The night chart restricts changes to invalid values
The No Barrage and Air Power Dice rules tokens can now be right-clicked to discard the applicable card from the draw deck making it easier to remove it from the game
Added SWAs Assault Gun (Dutch Open)
Added a custom fuel die roller button (Dutch Open)
Removed the "desserts" from Actions 9
Added a custom Hill with Jungle terrain tile
Added new Lake terrain tile
Added scenarios for Dutch Open 2019, 2020, 2021
Added all Remembrance scenarios published to date
10.14.2: What is New?
Fixes custom Java code to remove deprecations. Removes the warning dialogs on launch.
10.14.2 is scenario compatible with 10.14. You can keep using your existing 10.14 scenario module extensions with 10.14.2.
! The bug with Supported Armor units (and probably Supported Infantry units) has not yet been fixed.
10.14: What is New?
Over 1100 included scenario setups
Added New Flight Plan and Air Combat deck
All scenarios rebuilt with fixes and updates from 10.13.1 with updated scenario tool
Fix a bug where online games would lose sync
Reducing the time it takes to tile images when first loading the module
Updated the custom Java code for compatibility with new VASSAL versions
Improved column sorting in scenario chooser
Add a new air rules picker to choose between no air rules, Air Pack or New Flight Plan
Added direct menu access to non-classified Official scenarios
Add compendium cards for Campaign Book Vol. 2 actions, air rules, SWAs 9, and NFP rules 1-3
Add commands to Air Sortie and Air Power cards to allow them to be removed from a game; Air Power automatically removed when picking New Flight Plan air rules
Fix OL Air Power card
Fixes to mine tokens
Scenario help adds more card rows by default
Added BT4XL1 board type for BL-XXL
Added smaller Beach Control axis/allies markers that can be used on the map
Added unit preset for Halftracks with 1 or 2 figures
Added map option to Hide/Show Air Units
Updated Air Pack tokens and units
Updated some toolbar icons
Other small fixes and improvements
Added campaign Dutch East indies
Added campaign 1st Colonial Division
Added campaign A First Stand: The Battle of the Admin Box Campaign
10.13.1: What is New?
Added new tiles for: Lake, Village, Village on Hill, Church on Mountain
Added new compendium card for Terrain ??: Church on Mountain
You only need to update if you need any of these new custom tiles.
10.13: What is New?
Added Jungle Combat card deck
Added Desert Combat card deck
Added a chart sheet with default actions for all combat card decks
Added Through Jungle and Desert series
Added new scenarios, now at 1000!
Added scenarios from the Dutch Open 2017, 2018, and Open de France 2015, 2016, 2017, 2018 tournaments
Added Operation Crusader campaign and scenarios
Updated the scenario chooser with new resizable columns
Split the "Set" column into "Set" and "Tournament" in the scenario chooser. It is now easier to group by set or by tournament for scenarios
Removed the compendium panels and cards from all scenarios, can now use Zoom > Fit commands to only fit the playable board area
Compendium cards are now pre-generated for all scenarios and placed in a Help window, all scenarios now have applicable compendium cards
Added desert camouflage markers
Added spider markers
Changed camouflage so any unit from any side can be set to any camouflage marker type
New graphics for Sandbags, Hedgehogs, and Wire
New inactive medal spot markers
New command / card hand indicator style, which also includes optional combat deck type and cards
Captured medals now have a larger brighter border and a larger flag with multiple colors to select from
Added new tiles for Road Bend on River, Road on River, and Desert Railway
Added new nations to the scenario notes: South Africa, Philippines, Bulgaria
Added a new "hexmap" 3 to 6 player board, and single scenario by "Quit2"
Added player order indicator pieces (1st, 2d, 3d)
Added a scenario special rule token to replace the Air Power card with Artillery Bombard
Added a scenario special rule token to replace the Air Power card with Barrage
New tile based graphics for Wagon and Locomotive
Added combat markers to the Locomotive
Locomotive now uses figure counter to mark damage instead of damage tokens
Reorganized the Pieces tabs and panels, and the Units tabs
Moved all "hide layer" commands to a single toolbar submenu
Added a "show/hide obstacles" toolbar command
Fixed reported and discovered scenario setup errors
Fixed the card backs of BT1 deck cards on multi BT deck scenarios
Renamed Late War SWAs as (SWAs x - xxx - Late War) in scenario notes
Replaced all mine tokens in all scenarios
Added new mine tokens from the Through Jungle and Desert expansion
Reset player command values in all scenarios
Merged the "Reverse Units" extension into the main module, this extension should no longer be used
Other fixes and improvements
Comments
Days of Wonder's "Memoir '44"
The module contains content from all Memoir '44 products. If you do not own a certain expansion, ignore the content from that expansion in the module.
Game Etiquette
If you choose the scenario offer to let your opponent choose the side he wishes to play.
When deciding on a card, place it in the center of the board. The other player then moves the card to the discard pile.
Mark the attacker, and mark the target. After the attack, mark the attacker and target as battled (CTRL-B), this will set the attacker to no battle, and the target clear.
Before rolling the dice, declare how many dice you are rolling, and wait for your opponent to agree.

Experienced Players: to speed up play, only declare the number of dice before an attack when doing a Close Assault, to give your opponent the chance to play Ambush.

NOTE: when playing with Combat Cards, Urban or Winter, you must always declare dice before a combat, even when not Close Assault.
If a roll is done for more than the amount of dice allowed, dice are read left to right.
If there is anything that you are doing that may be unclear visually state it in the chat window before you attack.
At the end of your turn, press the "End Turn" button.
Game Tips
How to remove a wire or sandbags?

Make sure you have nothing selected (left-click on empty background to make sure if you are not). Shift-left-click on the tile of the wire/sandbags hex. It will select with a black line. Right-click the tile and perform Delete, or use CTRL-D to Delete it.
How to add sandbags to a unit?

Open Pieces with the Pieces button. Go to the Obstacles tab. Drag the sandbags from the top section onto the game board where you want the sandbags to be.
Keep your cards hidden, even in your private hand window. You never know who is looking.
How to remove the Raft from a unit?

Select only the unit with the Raft. Press CTRL-I to toggle the Raft for the selected unit.
How to remove the Battle Star from a unit?

Select only the unit with the Battle Star. Press CTRL-G to toggle the Battle Star for the selected unit.
How to remove Camouflage from a unit?

Select only the unit with the Camouflage. Press CTRL-F to toggle Camouflage for the selected unit. Camouflage is also removed automatically when a unit attacks or moves.
How to add/remove the Veteran Star to/from a unit?

Select only the unit. Press CTRL-E to toggle the Veteran Star for the selected unit.
Where are the unit badges?

Badges are always attached to a unit, and are not independent pieces. To select a badge for a unit, select the unit, and press CTRL-[ and CTRL-] to cycle to the correct badge.
If you need any markers or obstacles during your game, they can be found with the Pieces button in the toolbar, under the Markers and Obstacles tabs. Drag the marker or obstacle you need from the display onto the board.
NIGHT CHART: when using the night chart, it should have been set up on the board. If it is missing, click on the Pieces button in the toolbar, and go to the Setup tab. Drag the small night chart icon onto the board.
Overlord: there is an Initiative die underneath the board for each Field General. Right-click it and choose Roll. The die is automatically reset when you click End Turn.
PBEM Retreat: right-click the unit that should retreat and choose Retreat Flag (CTRL Q). A retreat flag is attached to the unit. Choose it multiple times to increase the number of flags, or eventually cycle it back to 0. Units with a retreat flag are not ordered when moved, and the retreat flag is automatically removed.
MINES: mines have been set up on the board in the scenario setup. Right-click and choose Flip to turn a mine marker over and see it's value. When you do this a random Mines marker is chosen from the stack of available Mines markers. Once a Mines marker has been flipped it's value is set. If you need a random minefield, go to Pieces in the toolbar, and the Setup tab. Drag a Mines marker onto the board.
OBJECTIVE MEDALS: right-click a non-Permanent objective medal and choose Capture. The objective medal is marked with a flag, and a placeholder medal is created. Drag this medal with the tiny red flag onto your medal score track. If you ever lose the medal, right-click the placeholder medal and choose Delete. Right-click the objective medal on the board and choose Lose Objective.
CAMPAIGNS: don't forget to check out the Campaigns button in the toolbar for some free campaigns.
Custom Code
There are a few custom Java classes in the Memoir '44 Module. They are available here: GitHub
Screen Shots
Players
BigAL
Cpl_Uhl
Athenashooter
Greg O
shilinski
Bilben
motoi
caroper
Randwulf
Brummbar
chilinski
OusterX
elfkingsteve
Kodiak
Bizzio
RolloTommasi
Ziza
Niedziak
DBasi
RDW
Beerme
jonese8
yangtze
TVRBoy
MedievalBanquet
ricmadeira
bacchus
logYC
eschatorama
andrei
Znapperhead
Philips
baub64
alfred93
Yskonyn
Kitcat
Griffitz62
jll1024
MikeO
fred25
SuperDar
MoonWa
Gad
VKV
Commando719
kataaka
Wargamer777
pvthudson01
icheyne
tessablair
bikini
Jonny
dauston
colinkun
SimmyP
carlosd
Harimau
crankygypsy
CenturySoldier
Darcy Burgess
Frederik
Christo
pauljh
gamingguy
Weathman
colinkun
Nanich
chezstewart
Loki1717
lorgan
FICI
GJK
XScream
deaneubanks
blackhorse
MisterSanity
SgtBobby
glasper
KingTiger
glasper
warbear
messere3
AngeloAntonio
TBullet
Burkhalter
cowhollow
paspas
schmoove
GreyPilgrim
esswedl
Ogreking
Chump
FICI
logYC
paspas
WaltherReinhardt
Firward
tassonik
fenris
ColtsFan76
Caboose
s0xfan
Sultan
Maladryne
zhukov
daveted
paulmdickey
boddekker
MrGloomy
ges
Cantata
HaoleBoy
Laticpot
DerDiplomat
coalie
basem2502
kaukrato
DonZaucker
Erebus
KingEfraim
Cunki
Roydboy
Cunki
timf
pmiranda
nytimesdave
lpauperio
CoffeeMan
Milor
AlkoNL
CesareBorgia
HazMatt
seon
regbob
dicedealer
Shugyosha
HamsterHuey
Pabu
casoli
Tacticus
Ronzy
redzebra
damedley
JacquesFallible
StickyRick
Benedetto70
leplombard
yangtze
Athos
Viktorta
MajorOracle
drakov666
XSiberia
Corregidor
mking
Valien
Nicolas
antonionemoamato
Thyde
jpat
Brad
hdrestr
BigDave
Muzza
bfunny27
Castaway99
philmcd
Vialli
Hawkmoon
Tony
bouchon1
ukdane
AstroCat
markacres
rehlers
xador
Dandorman
God
BogenBlitz
juheimbu
MellyMel
raestuart
gherardo
ALE751
Caboose
Serge13102
renza
ANZACTrooper
1stSeargent
TracerBullet
brianeknoll
Mallgur
Vince
pzlehr
Liverbirds
Springroll
Argueros
Relacon
StugIIIg
TommieSL
sam1812
poboxgarret
MCharves
shmcbee
theloneifa
Yveen
southseasnurse
HazMatt
Websteria
Grudunza
wasabijoe
miker42
david5272
Oejack
Damien
Mumbly3
gr8nater
Cloudmv
michaelangelo
Liverbirds
Timb
bloomingtonemt
tonnatiger
alexcobo
bgm1961
bayernkini
Creeps
scott55
SGib1995
JonatanRaven
imran
Liverbirds
ErwinR
beno
Gumbar
espoir
jogadorzeco
jmpdias
aussieausbourne
justinsane15
Awfki
joelat713
ShiningSpur
byll
monty2
SGib1995
mickery
JJAZ
mccann98
alaskaspi
Obreelsulls
SLFanatic
jfaugeras
Dakmor
philmcd
thetimelord
MTaylor
thejughead
TuoLei
jhorner
moloch
smaul1
Cheezer
TyruYaka
Robert
Crowleyhammer
twilightkid
mskgoss1963
pzlehr
spartan18a
mbiella
gherardo
DougAcker1
Philoo
tjlarch
jksedge
mortificator
Mumbly3
eWabbie
longbearder
phillo23
grifalco
Wormious
mzungu
myszak44
guntar
BankerNot1
dicedealer
PeteDarby
Hairball01
Chris59
FelixPhantasm
Lbouy
jrbentley
ozjesting
kenwaterman
KOS
Oldgamer
Madeuce36
philips69
Fentum
jphien1
milly1177
davidmc1524
Reddog95
pyrate
ypj
nidamours
Omega
UberSoldat
powersm
Genz
Nostok
Mano
Cardell
gittes
yankeeap
politisnik
Chestburster
YGBNRN
jmpdias
billgoode
chrissk
Renaud
Mzkysti
Baxter
colinHalpenny
andyinjapan
solomongaby
Brea
MajorSholto
bdgza
slamis
Eizenhorn
charlescab
Tulfa
aaronsibley
mickery
HardyGabriel
Xaal
bepsi
slamis
fourstars
praxeo
Derm4
GordonRodgers
nuk3r
Boonast
Zelph
slamis
DrFeelgood
ionian
GornTC
Asyncritus
Jaykay2010
Jim
rickbill
AZTiger98
Howitzer99
Abismo2000
Almilcar
Tinto
BoyceUnplugged
pinos58
Derekrledr
Lugosi84
ChaosWolf
exoow
Aaron
Jacobs40k
fauspatrone
Tal S