Module:Napoleon at Waterloo
From Vassal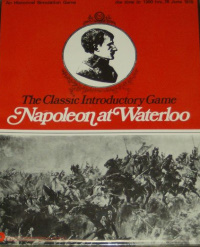 Files and Module Information
Comments
Version 1.0 PnP
Thanks to Stephen Oliver who developed Napoleon at Waterloo for vassal and allowed me to modify his module to make this print and play version. Contains the Free Game from SPI in 1979 and the P Sabin 2020 Tweeks.
Keeps count of combat points lost.
For opponent to see movement trail left click on unit.

Version 2.2 created by Stephen Oliver

The game that suckered a willing generation into SPI games.
Screen Shots
Players