Module:Nine Years: The War of the Grand Alliance 1688-1697
From Vassal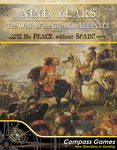 Files
Module Information
| | |
| --- | --- |
| Maintainer | Joel Toppen |
| Contributors | Joel Toppen |
Comments
Version 1.1 fixes setup error: Wealthy marker moved from Vienna to Munich. Wealthy markers made immovable.
Compass Games 2017; Don Herndon System Design, Sean Chick and Kris Van Beurden Game Design
Module Instructions
1. No Peace Without Spain pieces are included in the module. See Out of Play window for Event Cards. Pieces tray for counters.
2. Due to the complexity of merging two games, this module does NOT enforce game piece inventory. Players may use the "Inventory" button on toolbar to ensure that number of pieces in play does not exceed game limitations.
3. The Multi-Turn Event display can be flipped to the NPWS side by right-clicking and selecting from the pop-up menu.
4. Hand windows work somewhat different than in the NPWS module. Individual card-draw buttons are included. One Event card draw button is included. Two additional card "slots" are included for held Event cards.
5. Event cards have been enlarged from the NPWS module for greater readability.
6. Action card deck does NOT detect when a reshuffle is needed. A counter has been included, however, which keeps a running count of the number of cards in the deck so players can discern when a reshuffle is needed.
7. Right-click on decks to reshuffle, send to out of play, or send to another deck.
8. Right-click on CAPITAL spaces allows the player to convert ALL spaces in a country to Alliance or Bourbon control (so you don't have to do this one-by-one).
9. Use Ctl-I (or "Initiative" from right-click menu) on ACTION Cards to play that card FACE-Down on the map. Alliance cards show up in upper left; Bourbon appear in lower right of map. When the second player has done this, BOTH player's cards will simultaneously be sent to lower-right of map where they are revealed. They actually appear in "decks" which strip ownership -- useful in PBEM. Drag away from these "decks" to either discard or drag back to hand window.
10. Winter Quarters button deletes markers and rallies demoralized units.
Screen Shots
Players