Module:No Retreat!
From Vassal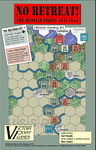 Files
Module Information
| | |
| --- | --- |
| Maintainer | Bill Thomson(wga) |
| Contributors | Licinius, wga, JohnJohn |
Comments
Version 0.1 also available at http://www.victorypointgames.com/PBEM/NR_Vassal.zip
Victory Point Games Design by Carl Paradis, 2008. Eastern Front WWII represented in a compact, tense simulation. Units are German Armies and Russian Fronts; 100 km per hex, two month turns. Total units and markers in the game is 40 pieces. Card driven design makes for an unpredictable game.
Wargame Academy is launching an effort to generate organized PBEM play (ladder, tournament, scenario record, AREA player ratings) as the player base expands. NO RETREAT! will again be a tournament at Prezcon 2011 (Feb 23-27; Charlottesville, VA) for the second year. Contact Matt Looby vmi1983@westelcom.com or Bill Thomson bill@wargameacademy.org
Game is in transition as has been picked up by GMT to be published with several additions and rule modifications.
Screen Shots
Players
wga
vmi1983
BigDave
Licinius
SkunkyBeer
nwright
yankeeap
hughh
MikeO
Pete4258
Bridger
xrubio
J6A