Module:Old School Tactical
From Vassal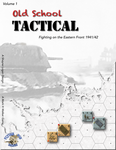 Files
Module Information
| | |
| --- | --- |
| Maintainer | Vance Strickland |
| Contributors | Scott Eagles |
Comments
Version 1.01
Initial release. Contains main game and Stalingrad expansion board and pieces.
Version 1.02
This update brings the module in line with the look and functionality of the modules for Vol.2 + 3. Various missing markers added (Intensive Fire, Acquiring, On Road).
Version 1.03
This version includes updated and previously missing Unit and Luck cards. Decks have been moved off of the main map area to their own Cards window. Mouse-over viewer now reports hex grid location. New "Look At" feature added -- Ctrl + Left-click anywhere on the mapboard to draw your opponent's attention to a hex, etc. (a red circle appears which fades after a few seconds and your opponent's view will automatically center on the spot).
Screen Shots
Players
Vance Strickland
Rick Billings
Scott Eagles