Module:Origins of World War II
From Vassal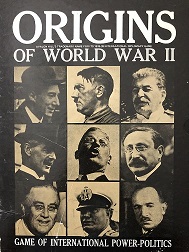 Files
Module Information
| | |
| --- | --- |
| Maintainer | John W. Gant |
| Contributors | John W. Gant |
Comments
Version 1.0 of this module contains all of the core functionality needed to play the Historical Game including the necessary charts. All components are ready and playable for this and any other variant of the game.
Version 2.0 adds the Pacific theater as provided in The General magazine.
Version 3.1 has significant new work by David Deitch including enhancements to the visuals, a turn track, a chit pull system, and more. The maps are now one image so no map selection is needed. Just scroll to the right to see the Pacific.
Screen Shots
Players