Module:Outreach: The Conquest of the Galaxy, 3000AD
From Vassal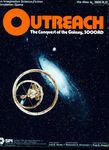 Files and Module Information
Filename
Filetype
Size
Date
Compatibility
Developer
Other Contributors
1.2
Outreach_v1_2.vmod
module
13.22 MB
2021-02-12
3.4.12
Perry Andrus
1.1
outreach-1.1.vmod
module
11.61 MB
2020-12-30
3.4.12
Matthew Potter
1.0
Outreach10.VMOD
module
7.03 MB
2018-10-19
Kevin Conway
Comments
v1.2 (Perry): Someone created this version for an online game and then I added features for ease of play. This was my 8 player file originally csutherlandewr@gmail.com
v1.1 (Matthew): A less quick-and-dirty module. Charts are not scanned in, but the map is not the original game map. "Maint" function is somewhat wrong.
Use Pieces menu to place markers from your own color. Use Chits window to place autonomous fleets and non-player markers.
v1.0 (Kevin): I just created this real quick to make it functional. There are no bells or whistles. Use the marker function of the units to mark fleets and stargates.
Screen Shots
Players