Module:Panzers Last Stand: Battles for Budapest, 1945
From Vassal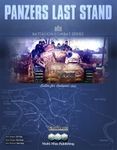 Files
Module Information
| | |
| --- | --- |
| Maintainer | Jim Pyle |
| Contributors | Jim Pyle |
Comments
Version 1.05
1. Fixed so Activation Markers can be placed on mats
2. Fixed the 2 Soviet HQs that didn't show on counter labels or go to "Done".
3. Added Screnning hex highlighting to appropriate units
4. Fixed Movement Trail error message
5. Fixed double showing of assignment label

NOTE: For games started under earlier versions you'll need to do Tools/Refresh/Run to get all the changes to take effect.

Version 1.04 adds HQ mats for holding markers. Thanks to David Gross for supplying the artwork for these. Also thanks to Chris Gammon for supplying an enhanced TEC for the game.
NOTE!!!!: In order for the HQ mats to work properly you'll need to do a Tools/Refresh/Run. Best to do this after the end of a turn after you've reset all the HQs

Version 1.03 has updated Unit Skills chart
Version 1.02 changes
NOTE: Some changes may not work if loading a vsav or vlog from an earlier version
1. Fixed Command range for Buda & Pest HQs
2. Added a "Hide All" button to both Activation Displays
3. Added a "Weather" die roll to the "DICE" button
4. Added "Non-Rebuild Return Time" die roll to "DICE" button
5. Fixed 5 Tk Corps assigned units not highlighting
6. Removed several unused formations from both Assignment lists
7. Made "stacked" spacing greater on the Activation Displays so easier to see number of counters in a stack
8. Fixed Soviet 33 Rfl Corps infantry size symbol to regiments

Version 1.01 changes
1. Changed so counter name not reported when moving on Activity Display
2. Fixed HQ Reset
3. Added March Obj marker
4. Added Fire Event Marker

Version 1.00 is Initial Module
Screen Shots
Players