Module:Pax Emancipation
From Vassal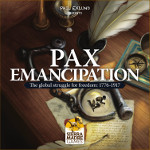 Files
Filename
Filetype
Size
Date
Compatibility
Developer
Other Contributors
1.5
Pax_Emancipation_1.5.vmod
Module
29.14 MB
2019-09-15
3.2.17
Stefano Tine'
Comments
This module is for Pax Emancipation, released with permission from Phil Eklund.
Please see the READ ME window after starting a game for specific instructions.
Any feedback most welcome: please email me (Stefano Tine') or post on the Pax Emancipation forum on boardgamegeek (I am user "barbanera" there, same as here on Vassal).
Release Notes:
1.0 (2018-11-07) - original version
1.1 (2019-01-07) - minor bug fixes and added Revolution cards display
1.2 (2019-01-27) - added a market refresh automatic procedure
1.3 (2019-02-09) - added an automatic VP tracking functionality, improved the Divest functionality, cleaned up images
1.4 (2019-06-12) - added a Counter Enlightment tracking tool, an East-West die and a couple of player aids, fixed a rare bug with market refresh
1.5 (2019-09-15) - added automatic reminders of the current era (cooperative vs competitive), fixed a bug with the Natal admin not being counted in VP (competitive) tool, cleaned up Elephant image
More details on the boardgamegeek forum threads for this game.
Screen Shots
Players