Module:Pax Transhumanity
From Vassal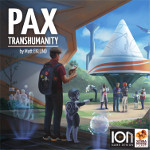 Files
Comments
This module is for Pax Transhumanity, released with permission from SMG/ION.
Please see the READ ME window after starting a game for specific instructions.
Any feedback most welcome: please email me (Stefano Tine') or post on the Pax Transhumanity forum on boardgamegeek (I am user "barbanera" there, same as here on Vassal).
Release Notes:
1.0 (2019-09-15) - original version
1.1 (2019-11-28) - fixed market setup to correct number of cards for all player counts and added a regime cards aid
1.2 (2019-12-05) - another fix to the market setup (was dealing 3 less cards), with many thanks for the bug report to BGG user dasher47051
1.3 (2020-02-07) - player aids updated/fixed and fixes to hide the hidden sphere card names and to show proper divested cubes log reports
1.4 (2020-04-08) - updated setup to allow playing the Short Game 2-3 players variant (C9) and order of cards in the Splay can now be modified with UP/DOWN keys
1.5 (2020-04-16) - fixed the UP/DOWN functionality on Splay cards to properly drag along heat cubes; added right click commands/shortcuts to commercialize cards in a single step
1.5.1 (2020-13-03) - fixed the Game End player aid to show correct Plurality scoring
1.6 (2022-02-22) - fixed to run without errors under Vassal 3.6.5
More details on the boardgamegeek forum threads for this game.
Screen Shots
Players