Module:Quarriors!
From Vassal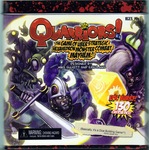 Files and Module Information
Comments
Version 03j includes the 'Rise of the Demons' and 'Quarmageddon' expansions.
How to play
Game setup. Any player press "Setup" button. The cards automatically appear on the Main Map. The structure of the cards determined by random, according to rules. You can hover the mouse pointer above a card to view its power text.
Each player's area is associated with his own window. Pressing button "P1" will open Player1's window, "P2" - Player2, and so on. Players can watch in windows of each other, but cannot manipulate non owning object.

Version 2.0 is built upon the 0.3 module with some major changes like adding a spent and locked area and more options for setup.
Screen Shots
Players
Nelud
leuh1
Gruven_Reuven
AndrewD2
Ron H
Morpheus
Belshire