Module:Raid and Riposte
From Vassal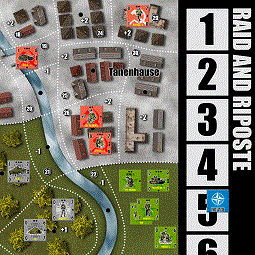 Files
Module Information
| | |
| --- | --- |
| Maintainer | Vance Strickland |
| Contributors | |
Comments
From LnL Publishing's Line of Fire Magazine #12:
Raid and Riposte represents the defense of Tanenhause by the Soviet 1st Paratroop Regiment from May 13-20th, 1985. Led by Colonel Michael Balakirev, the Soviet paratroopers held off repeated assaults by Bundeswehr and U.S. Army forces for several days. I designed the game to play quickly. I think most folks will be able to play it in an hour or so. The rules are straightforward; if disagreements arise, I suggest you resolve them by arguing loudly. — Mark H. Walker
---
Update 1.01
Soviet Hind counter could not rotate. Fixed.
---
Screen Shots
Players