Module:Red Storm over the Reich
From Vassal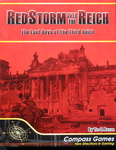 Files
Module Information
| | |
| --- | --- |
| Maintainer | JokerRulez |
| Contributors | JokerRulez |
Comments
Compass Games release by Ted Raicer recreates the 1945 Soviet attack to finish the war.
04/01/13 Version 1.0.2 is now posted updating the vassal version support to 3.2.3.
07/24/10 Version 1.0.1 is now posted. This follows a rather long period where the VASSAL web site was not available. Version 1.0.1 adds the show/hide units button to the main map. That is the only difference between it and version 1.0. Ready to play! Happy gaming.
01/02/10 Completed proof of concept of the units for this game. One unit is now on the board. Version 0.0.2 is now posted.
01/01/10 Okay, time for an update. I had a window of opportunity to work on this module that closed before I could get the artwork I needed from Compass Games. Finally was able to get all the official artwork needed to do the module but had no time to work on it as I was pursuing other interests. Am now actively playtesting the next game in the series: Storming the Reich by Ted Raicer. This has inspired me to get back at Red Storm Over the Reich. Today I created a basic module, did extensive work on the map to prepare it for VASSAL play, added the map and hexgrid to VASSAL, created some of the charts and added those to the module, and did some misc other work. Version 0.0.1 is now posted.
6/22/09 Just filled out the paperwork with Compass Games and am awaiting the offical artwork. Development can begin at that time.
5/26/09 Just received permission from Compass Games to pursue this module, and official support will be provided! Should be able to get going on this shortly.
5/5/09 Hello Everyone,
No module yet. Still seeking permission from the game's developers.
Check back here regularly for updates.
Thank you,
John
NEW - Development has begun!!! *
Screen Shots
Players
JokerRulez
robarrieta
daxelos
Farnesio