Module:Renegade
From Vassal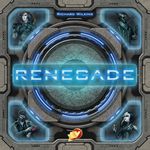 Files
Filename
Filetype
Size
Date
Compatibility
1.0
Renegade_1.0.vmod
module
25.76 MB
2020-05-27
3.2.17
Module Information
| | |
| --- | --- |
| Maintainer | gattsu |
| Contributors | |
Comments
Renegade is an abstract-euro thematic deck-building game for 1 to 5 players. You are a new breed of Decker - a Renegade. You will hack into a network of five servers, operated by one of four Super-Massive-Computers (SMCs). Each of these four SMCs have their own AI and increasing complexity to defeat. You must survive a series of Countermeasure events before the network becomes overrun by Sparks and Guardians. Once you are jacked into an SMC's servers, with a profile bringing its own special ability, you will move across its partitions and fight to take control of the network by using informational, destructive, deceptive and cognitive attacks.
Version 1.0 This is the first version of a fan made Vassal module for "Renegade" designed by Richard Wilkins and published by VPG. This Module contains the Base Game plus the Expansions Booster Pack 1+2.
© 2019 VPG. All rights reserved. Included by permission of the publisher and designer.
Screen Shots
Players