Module:Richard III: The Wars of the Roses
From Vassal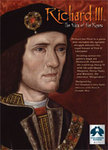 Files
Filename
Filetype
Size
Date
Compatibility
6.0
RichardIII_v6.vmod
Module
2.64 MB
03-10-2010
3.1
Module Information
| | |
| --- | --- |
| Maintainer | shilinski |
| Contributors | shilinski |
Comments
Be sure to read the R3 Player's Guide, which you will find in the module's Help menu.
3/10/10 Version 6 Fixed the Rebel block, which had a white back.
2/19/10 Version 5 Fixed the embarrassing mistake of associating Lancaster/York with the wrong colors. Now using the real map and not an early playtest version.
Screen Shots
Players
Darcy Burgess
shilinski
yankeeap
vmi1983
Preacher
Raynovich
Renaud
BlackPrussian
yangtze
peteywa
Tulfa
tippecanoe8
theimann
John L
John Anderson
BrianC