Module:Rifles in the Ardennes
From Vassal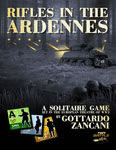 Files
Module Information
Comments
Rifles in the Ardennes recreates the tense action that characterized Ardennes in a unique single-player format. Designer and Artist Gottardo Zancani has replaced the literal map typical of World War II games with a stylized track, allowing for endless customization of the battlefield.
A simple solitaire system allows the recreation of small combat engagements (five to ten units per side) over a bevy of scenarios. Blind chit draws and die rolls, combined with artfully crafted charts create an impressive "artificial intelligence," embuing the game with a true fog of war.
Version 1.0 This is the first version of a fan made Vassal module for "Rifles in the Ardennes".
© 2017 Tiny Battle Publishing. All rights reserved. Included by permission of the publisher.
Please support Tiny Battle Publishing!
Screen Shots
Players