Module:Rifles in the Peninsula
From Vassal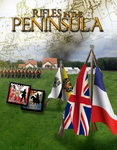 Files
Module Information
Comments
Rifles in the Peninsula is the third game of the solitaire RIFLES series, which also includes Rifles in the Pacific and Rifles in the Ardennes. The focus of this new title is on the Napoleonic Wars (1799-1815).
A simple solitaire system allows the recreation of small combat engagements (five to ten units per side) over a bevy of scenarios. Blind chit draws and die rolls, combined with artfully crafted charts create an impressive "artificial intelligence," embuing the game with a true fog of war.
Version 1.0 This is the first version of a fan made Vassal module for "Rifles in the Peninsula".
© 2019 Tiny Battle Publishing. All rights reserved. Included by permission of the publisher.
Please support Tiny Battle Publishing!
Screen Shots
Players