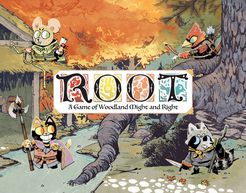 Files and Module Information
Filename
Filetype
Size
Date
Compatibility
Developer
Other Contributors
2.0
RootbyMerk.vmod
All Expansions + PNP
158.1 MB
2021-03-13
3.5.3
Merk
Merk
1.11
RootFinal_1.11.vmod
Module
33.36 MB
2020-03-20
VASSAL 3.2.17
Donegal
Donegal, Trigork
1.10
RootFinal.vmod
Module
33.34 MB
2020-03-20
VASSAL 3.2.17
Donegal
Donegal, Trigork
1.04
RootFinal.vmod
Module
33.34 MB
2019-04-07
VASSAL 3.2.15
Donegal
Donegal, Trigork
Comments
2.0 One player will choose the Admin side, in order to select the Map and perform the Setup (choosing in game Factions, Deck, Advanced Setup, etc.)
Admin side is also used to peek at ruins, in a two Vagabonds game.
1.x Versions Usage Note
There is a special card-sized space to the right of each faction board. A player may pass a card into this space so that the faction board owner will be able to take control of the card whilst the card remains face-down to other players at all times. It can also be used to deal cards to the faction board's player.
Players
Merk
Donegal
Justin D Leingang
Trigork
marktb1961
Bob Example