Module:South Pacific: Breaking the Bismarck Barrier 1942-1943
From Vassal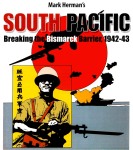 Files
Module Information
| | |
| --- | --- |
| Maintainer | Matthias Jahr |
| Contributors | Francisco Colmenares, chryssalidpunk |
Comments
Changes made in v0.9 of the module:
added FOQ markers
adjusted set up so Allies start with Op Watchtower off board with FOQ marker
adjusted set up so Japanese start with Savo Island card in hand
missing unit in set up, Kent should be on 3727
missing unit in set up, Marine Bde should be on 4825
missing counter in set up, Japanese resources on 1 (this is not used AFAICT but it's listed in the scenario anyway)
changed 2d10 dice roll so range is 0-9 instead of 1-10
changed "draw N" button log message to match number of cards drawn
changed "play as OC" log message so it does not say card is removed from game
fixed image for 5AF LRB (had 13AF LRB on reduced side, now 5AF on both)
Comments on previous version:
The current map, counter and card art are not from the magazine game, but made by me or edited/transfered from the EotS module. I will update them to the correct assets when I get the files.
The AZOI may be a bit flaky and will be updated to a better solution when I update the art.
In general most of the functionality of the EotS and Plan Orange modules is implemented in this module.
If there is anything missing or not working as intendend please don't hesitate to contact me via Email or on BGG.
Screen Shots
Players