Module:Star Trek: Starship Tactical Combat Simulator
From Vassal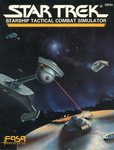 Files
Module Information
| | |
| --- | --- |
| Maintainer | Trekcross, devlynd |
| Contributors | devlynd, Trekcross, eswan9, Kimble |
, Craig68x
Comments
Star Trek Strategic Tactical Combat Simulator
3.5 upload: Craig68x: I added 3 new screenies of the additions I incorporated into this module. I'm working on the Black Hole piece. it's not included in the 3.5 release. The Planet Eater from ST: TOS episode called "The Doomsday Machine" is included. I couldn't resist adding this.

Several changes to the modules. the 2.2 is the last one that will have all the ships loaded from the various sites, with the addition of Steve Becons Four Year war ships, plus some minor cleaning and re-arranging of file and ships into classes. Major Thank you to Kimble who did a lot of the prototype settings and getting things looking nice.
Also releasing the 3.0 Beta, this is what Kimble and I have discussed going forward. It is just the ships releases with the STCS book, but all other ships will be added as an expansion. The individual SRM, Modules, ships from the different web sites and so forth. Also will be adding some different Planets, Asteroids and Moon packs for a little flavor to spice up the game. Let us know what you think.

Brad Torgersen's Website and Forum
Sporadic Enterprises (updated game play and ships
Morena sister site for Klingons
Steve Bacon's ship (Four Year War)
Screen Shots
Players
devlynd
tippecanoe8
Professor
Gyrene251
Bizzio
yukonhermit
tiberianson
Kimble
Atkindave
PrivateParts
callsignthumper
Ogreking
LordRevan
Razor
smaul1
daxelos
Trekcross
eswan9
JAFisher44
Takaholic
Starkadd
ETPxPa1adin
Craig68x
davidk64