Module:Struggle for Europe
From Vassal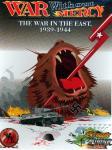 Files and Module Information
Comments
BoardGameGeek links:
The ETO Epic by Clash of Arms Games. Includes War Without Mercy, Brute Force and The Mediterranean
Version 2.4
Added Reinforcement & Replacements player aid sheets (like Avalon Hill Order of Appearance sheets) layed out as generic calendars (preposition reinforcements according to the Reinforcements sections in each scenario's special rules).
Allows players to preposition scenario reinforcements and in-game replacements on a calendar, with top row composed of undated "at start" boxes for grouping together units which share set-up groups/conditions.
Divided by nationalities (except for minor countries) and color coded: German + Axis Minors (Grey) Italy (Green w/White Cross)
Neutrals (White)
Western Minor Allies (Sky Blue) US (Tan) UK (Olive) France (Royal Blue)
Soviet Union (Reddish)
Implemented as restricted access maps.
Player sides were missing (accidentally removed?). Needed to restrict visibility of each Reinforcement and Replacement map to owning player.
Axis (Has access to Germany/Italy/Axis Minors)
Allies (Has access to US/UK/France/Soviet Union/Allied Minors)
Germany
Italy
Axis Minors
US
UK
France
Soviet Union
Allied Minors
Neutrals (visible to/moveable by all)
Version 2.3
Refactored Parts Inventory Menu Button
Replaced lists within lists with tabs.
Rotated to orient North as up
Cleaned up (noisy JPG file) and replaced with smaller and cleaner PNG file.
Counter Tray
Replaced single pieces tray with 5 trays implemented as separate boards:
ALL Trays have units/markers separated by which game box (War Without Mercy / Brute Force / The Mediterranian) that the pieces appeard in. Some scenarios specify that certain pieces (esp. forts and airfields) may not exceed the number in the particular box it appeared in.
Markers For game status markers
Axis Germany, Bulgaria, Finnland, Hungary, Italy, Rumania, Slovak, Spanish Blue Div.
Soviet Soviet / Siberian forces on own tray
Allied Belgium, Brazil, Great Britain, Denmark, France, Free French, Greece, Holland, Norway, USA, Yugoslavia + Poland.
Neutrals Iran, Iraq, Ireland, Portugual, Spain, Sweden, Ukraine, Turkey
Screen Shots
Players
bennyb
akulkis00
Athos
beast013
BigDave
Biswut
ChrisGraves
DerDiplomat
ktodd
pzlehr
supersolid
Vonpaul