Module:Swords around the Throne
From Vassal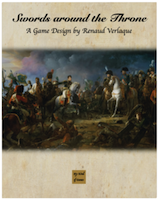 Files and Module Information
Change Log
v1.02 adds a module user guide menu accessible from the main window toolbar. Likewise for the play aid.
v1.03 corrects the predefined setups to allow solo play.
v1.04 incorporates an errata correction to the play aid.
Comments
There's a very little, if any, drag-and-dropping between windows. Always use a command to move pieces or cards if one is provided.
All hand-like windows use the hand logic (cards are effectively stacked at the left end of each row and automatically displayed to the right). If you want to drag and drop cards, drop them at the left end of the desired row.
Screen Shots
Players