Module:The African Campaign: Designer Signature Edition
From Vassal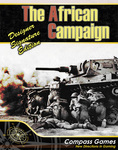 Files
Module Information
| | |
| --- | --- |
| Maintainer | Joel Toppen |
| Contributors | Joel Toppen |
Comments
Version 1.2 fixes the following units: 4th Indian, 5th Indian, and 1 South Africa divisions have corrected images for the missing strength steps (4I is a 4-step, 5I and 1 SA are 3-step units).
Version 1.3 adds player aid card and corrects errors on turn track (no replacements on turn 1, no Allied reinforcements on turns 6 and 10).
The Africa Campaign: Designer's Signature Edition VASSAL Module Instructions
Most things should be self-explanatory. There are a few things that users should know, however:
1. Allied units can be withdrawn to Order of Battle windows by right-click on turns on which withdrawal is called for. Counter should go to the space on OOB where the unit returns if return is called for, otherwise it goes to the OOB space for the current turn.
2. Draw Mines and Events into "hand" windows using the buttons in those windows. Events automatically flip to the side of the counter appropriate to the side making the chit draw. Owner can view mines in hand window, but per rules they cannot be viewed on the map without revealing the counter to both players.
3. When Mines are drawn into hand windows, an icon appears that reveals the "owner" of the chit. The reason for this is because in VASSAL, only the chit's owner can reveal the masked piece. The icon will go away when the counter is flipped over on the main map.
4. Tactical Advantage chit will flip over when Ctrl-S is used to send to the Turn Track. Ctrl-R will return it to the other player.
5. In the physical game, multiple counters are used for single units with more than 2 steps. In the VASSAL module, however, only a single unit is needed. Right-click to increase/decrease steps. This is why the boxes in OOB windows that would ordinarily hold the extra counters are empty.
6. Counters for Inf/Arm replacements are in OOB windows.
7. Units that can execute Division Breakdown have a right-click function: Execute function from division unit to send division to OOB window and dispatch regiments/brigades to the division's former hex. Similarly, right-click on brigade/regiment to send to OOB and dispatch division unit to the vacated hex (be sure to do this for each regiment/brigade in the hex – either all at once or one at a time).
Screen Shots
Players
Joel Toppen
Monte
Paul-E
BigAL - Newbie