Module:The Battles of the Seven Days
From Vassal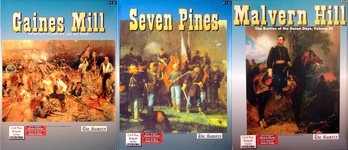 Files
Module Information
| | |
| --- | --- |
| Maintainer | Larry86 |
| Contributors | |
Comments
This is my fifth (and largest) CWBS module. It contains all the features from my previous modules (reference Embrace An Angry Wind for more info). I updated the counters, but just slightly, and made the Union color schemes the same for Corps used in both Seven Pines and The Seven Days Battle. I have included all known errata.
The module contains all three games (Gaines Mill, Seven Pines, and Malvern Hill) and all scenarios from the these games. Since most players will naturally want to play the entire Seven Days battle - these two scenarios (from Malvern Hill) are listed first and titled "The Seven Days - Campaign Scenario...", after those two, the remaining scenarios are listed by game with the Gaines Mill scenarios next, followed by Savage Station scenarios, Malvern Hill scenarios, then the Seven Pines scenarios, and lastly some blank maps for those wanting to do their own setups.
I modified the maps to include tiny red stars on the Gaines Mill maps (ABC) and Seven Pines maps (DEF) which show the victory locations for the full campaign (as they are different from the original yellow stars already on the map board). I have included a detailed description in the charts section within the module, so you can understand my logic.
I have included a bridge marker - to show destroyed bridges on the map; and included more divisional goal markers - with a new order feature to fully write out your order, and you can even make them invisible to your opponent, I find them useful, use them as you see fit.
The Seven Pines counters are contained within a separate counter bin and are easy to identify with the white stripe on top of the counter.
This module was quite a challenge - the map is quite large and it took a great deal of effort to find a happy medium between appearance and module size.
Enjoy.
Screen Shots
Players