Module:The Devil's Cauldron
From Vassal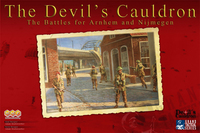 Files
Module Information
Comments
The Battles for Arnhem and Nijmegen
This is a combined The Devil's Cauldron (TDC) and Where Eagles Dare (WED) module. It contains all of the TDC scenarios and campaign, plus all WED scenarios and campaigns and both can be played in the one module as a double campaign.
Version 6.4.4 fixes the warning message about old Java code.
Version 6.4.5 fixes a bug introduced into 6.4.4 - Units in Woods no longer lost their -2 bonus when fired on by Direct HE (Yellow).
Version 6.4.6 fixes a bug that causes a crash when accessing the Scenario Options tab to access the German Re-organisation options.
Version 6.5 is compatible with the newly released Vassal version 3.6. It requires either version 3.5 or 3.6 of Vassal to run. It also included improvements to the Attack Wizard (Assault option).
*** PLEASE NOTE ***

There is a bug in Vassal versions 3.6.0 through 3.6.4 that prevents the proper dealing of some of the Flak and Event counters in some of the scenarios (they end up all in the same hex). Vassal 3.6.5 resolves this bug. The workaround until 3.6.5 is released is to start the scenario using Vassal version 3.5.8, then switch back to version 3.6.
Screen Shots
Players
tgraff
Ricky Gray
swampwallaby
Beaker
nrichard
atterbef
johnnyd777
DerDiplomat
Griffitz62
MedievalBanquet
MikeO
harm
robarrieta
Relvig
dude163
gap10
gwylie
roblinx
Chris Anthony
valgurd
Jeff Coyle
sarfs
BugDany
Relvig
abithel
TBeach
Farnesio
moustachemike
JaggedTech
Craig68x
Blind Sniper
billcoop4