Module:The Guns of Gettysburg
From Vassal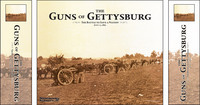 Files and Module Information
Filename
Filetype
Size
Date
Compatibility
Developer
Other Contributors
1.0
GoG_v1.0.vmod
Module
5.29 MB
2015-04-14
3.2.11
LordJesse
derblaueClaus
0.951
GunsofGettysburg0951.vmod
Module
5.29 MB
2014-06-22
3.2.11
derblaueClaus
LordJesse
0.95
GoG v0.95.vmod
Module
5.29 MB
2014-01-17
3.2.9
LordJesse
0.94
GoG v0.94.vmod
Module
5.29 MB
2014-01-08
3.2.9
LordJesse
0.93
GoG v0.93.vmod
Module
5.29 MB
2013-07-19
3.2.7
LordJesse
0.92
GoG v.92.vmod
Module
5.29 MB
2013-07-08
3.2.7
LordJesse
Comments
Let me know how it works!
Changes in 0.951 from derblaueClaus: Some minor improvements to the Return Stack procedure (Battletray Token now go face down to the returnstack) and the Union Reinforcement Tokens. The Log now doesn't show anymore which Battle Token is moved by the opponent.
Changes in 1.0 from LordJesse: Added a dice button and reduced the overview window size.
Screen Shots
Players
morri896
LordJesse
J Longstreet
Kevin Rohrer
Alexander Künzle
Randy Callard
Grant Linneberg