Module:The Next War
From Vassal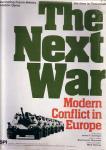 Files and Module Information
Comments
The Next War
Also download Module via MediaFire: The Next War v2.0
I have received permission from Decision Games and Christopher Cummins, the SPI copyrights holders, to publish The Next War Vassal module only.

The Next War is a brigade/divisional level simulation of a Soviet-led Warsaw Pact invasion of the central European front of NATO in the late 1970's. The three maps cover the area from the far north of Denmark, through Germany and Austria to the industrial heartland of Italy.
The standard rules constitute the fast game, and contain all the rules necessary to play "The Next War" land game - a complete game that can be played independently. The most notable mechanic is the combination of combat within the movement of land units, with the ability of units to greatly exceed the basic movement allowance at increased risk of fatigue/attrition.
Optional rules cover weather, supply, chemical/nuclear warfare, air and naval operations, airborne/airmobile and amphibious operations, helicopters and special forces, and electronic warfare and add can considerably to the record keeping and playing time.
The campaign game covers the first 60 days after mobilization in three basic scenarios, Sudden War, Spring Maneuvers, Tension. The differences between these three concern the timing of the outbreak of war and the resultant state of readiness of the respective forces. Due to the large number of optional rules, however, the players may in fact choose from a vast array of possible Campaign Game situations.
Six smaller scenarios depict smaller areas of operations over briefer periods of time in the regions of Berlin, Vienna, The Baltic, Fulda, North German Plains, and the Main Front (Fulda + North German Plains).
Version 2.1 Update
Added buttons showing NATO and WP SAM cover (for type A and B only).
In order to make buttons work in a previously (2.0 version) saved game, you must refresh your counters (tools/refresh counters).
Version 2.2 Update
SAM Buttons now show NATO and WP antiair cover for ADA units (mobile anitair units) too
In order to make buttons work in a previously (2.1 version or less) saved game, you must refresh your counters (tools/refresh counters).
Version 2.5 Update
Please see the module PDF file for detail changes in the 2.5 module. Summary: Air units can be returned to base from the air display with menu button on right click option from the unit. Redid the method for showing Fuel, Ammo, Fatigue, mode and WP Accel Asslt and losses. No longer separate counters. The stay with the unit as it moves and don't hide other units etc. Added 'boundary' info markers to divide up the battlefield into WP Army Area of Operations(AO) and NATO Corps AO. No effect in the game, player interest only. Added the ability to assign a unit to a higher formation. Same as boundaries, player info only.
Screen Shots
Players
Richz99
ktodd
destroyer1963
jtcourtne
zovs66
Don Lazov