Module:The Peloponnesian War, 431-404 BC
From Vassal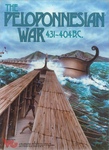 Files and Module Information
Comments
For your enjoyment, Victory Games - The Peloponnesian War 431-404 B.C.
From BGG
Peloponnesian War lets you chart the destiny of the war. This strategic game of ancient warfare allows the player, with a unique new solitaire system, to try an accomplish a lasting peace. All existing solitaire systems on the market have the player take one side for the entire game. Unfortunately this pits the player against a random system with poor strategic direction. In Peloponnesian War you get to play both sides, pitting yourself against the best you can offer. If the game system is winning, the player is forced to continue with the losing side. Success, on the other hand, will eventually force the player to change sides and recover the losing side's fortunes. The duration of the war and the player's performance determine victory. In this manner the player competes against himself in the classic tradition of the Greek tragedy.
See BGG for more information.

Version 1.2
Corrected missing cavalry in Athens and moved the naval and hoplites units from Epidamnos to Corcyra, where they belong.
Version 1.1
Fixed errors to the Victory Points Record Sheets
Added a 500/Game turn calculator to the Athens/Sparta Victory Points Record Sheets for Multi-Player use.
Added an identifying counter piece to each Victory Points Record Sheet for Athens, Sparta, and Persia.
Added a hide game pieces menu button
Version 1.0
Cleaned up map
Plastic tray with counter limits
Animated dice on the menu
Random Events Table dice roller
Improved Strategy Matrix Boards

Automated dice rollers for the non-player strategy
Current leader Strategy dialed into the roll by setting leaders piece on the strategy board

Automated Victory Points Record Sheets

Counters calculate VP totals
Surrender VPs counter
Calculates total VPs
Persia Victory Points Record Sheet included for multi player games

Scenarios included:

Peloponnesian War
Archidamian War
Decelean War
The Fall of Athens

Game Turn Counter

Advances the game through each phase
Works in conjunction with the Victory Points Record Sheet to add the correct number of Surrender turns
Automatically advances the Game turn piece on the map

Random Leader Pools
Screen Shots
Players
LordJesse
DerDiplomat
daxelos
davidk64
etopp62