Module:The Sands of War
From Vassal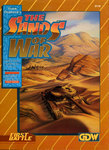 Files
Module Information
| | |
| --- | --- |
| Maintainer | Richz99 |
| Contributors | Richz99 |
Comments
"Tactical Combat in the Middle East: 1941-1991"
Scale: 250 meter hexes, 15 minute turns, platoon sized units.
Scenarios cover World War II, the Israeli War of Independence, the Sinai War, the Six-Day War, the 1973 Arab-Israeli War, Lebanon, the Iran-Iraq War, and the 1991 Gulf War.
Maps and counters from the Expansion Kit included.
Screen Shots
Players