Module:The Second World War
From Vassal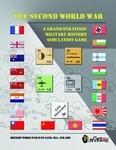 Files
Filename
Filetype
Size
Date
Compatibility
1.0
pangenre_tsww.vmod
module
5.1 MB
2012-04-04
3.1
Module Information
| | |
| --- | --- |
| Maintainer | Pangenre |
| Contributors | Pedro-Juan Ferrer |
Comments
I have received permission from Pangenre, LLC and John D. Powers, the Pangenre LLC copyrights holders, to publish The Second World War Vassal modules at the Vassal site.
Pangenre, LLC, retains all copyrights to The Second World War.
Module developer: Pedro-Juan Ferrer
Should any questions arise, or should it be required, please put in contact with Pangenre, LLC information as needed.
Comments
This is the very first version of the module and it is not "real game tested" so for sure there are things to change and improve, feel free to suggest anything.
Some of the displays have been rearranged in order to have all the administrative part separated from the maps.
Alternate Links to the Vassal mod files:
http://www.pangenre.com/thesecondworldwar/pangenre_tsww.vmod
Screen Shots
Players