Module:The Third Winter: The Battle for the Ukraine September 1943-April 1944
From Vassal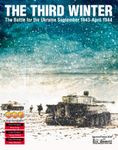 Files and Module Information
Comments
Version 1.04: 1 minor correction to railhead counter position in scenario 7 (Hube's Pocket).
Version 1.03: Reduced size of masked icons to make unit size more visible to owning player.
Version 1.02: Updated weather charts, Axis and Soviet Repl charts with latest errata (in blue text). Fixed bug involving Rumanian fighter patrol zones.
Version 1.01: Several minor corrections and setup adjustments for scenario 7 (Hube's Pocket). Also fixed a bug that prevented highlighting of Axis Reserve markers.
Screen Shots
Players